About MNSHA
Founded in 1936, the Minnesota Speech-Language-Hearing Association (MNSHA) is a nonprofit professional organization of speech-language pathologists and audiologists that promotes the welfare of individuals with communication disorders and represents the professionals who serve them.
Governance
MNSHA is governed by an Executive Council, along with a Policy Council and supported by Committees.
Learn About the MNSHA Executive Council →
Learn About the MNSHA Policy Council →
Letter From the President
Welcome to MNSHA, from the current president of the Association.
Strategic Plan
MNSHA's Executive Council developed a strategic plan that will guide the leadership, committees and staff in focusing resources and energies to ensure success.
Bylaws
Review MNSHA's bylaws to learn how the Association is governed.
MNSHA Awards
MNSHA recognizes the dedication and efforts made by professionals and patients in the fields of speech-language pathology and audiology.
MSHFoundation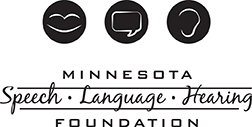 The Minnesota Speech-Language-Hearing Foundation is a nonprofit organization established in 1989 to provide public service and education about the importance of speech, language, and hearing and to provide scholarships to outstanding graduate students from our graduate programs in the State of Minnesota.