2020 MNSHA Town Hall Meeting: Recording
1-Hour Recorded Town Hall Meeting
(Available until December 31, 2021)
Presented by Alicia Hamilton
Abstract:
This Town Hall will present information to audiologists, speech-language pathologists and key stakeholders regarding Universal Licensure (also referred to as comprehensive licensure). Universal licensure ensures the protection of individuals of all ages who need the services of audiologists and speech-language pathologists by allowing one licensing body in each state to maintain jurisdiction over the practice of the professions. ASHA supports universal licensure, which would offer the greatest benefits for audiologists and speech-language pathologists by (1) ensuring that only audiologists and speech-language pathologists with the appropriate qualifications and training would provide services— regardless of work setting—and (2) would increase accessibility to and reimbursement from third party payer sources who stipulate that only licensed/regulated professionals can participate in their plans. Participants are encouraged to bring questions and comments to this session. Participants will also learn about the benefit of entering into inter-state compacts, if Universal Licensure is passed. This session is funded through a state grant from ASHA.
Learner Outcomes:
After completing this course, participants will be able to:
State what Universal Licensure provides for both legislators and regulators.
Identify the benefits of Universal Licensure with other practitioners to streamline licensure processes and continue practicing at the top of our license.
Demonstrate the relationship between Universal Licensure and Interstate Compacts, along with the benefits they have for audiologists and speech-language pathologists in the state of Minnesota.
Time-Ordered Agenda:
30 Minutes – Overview of Universal Licensure and Interstate Compact
15 Minutes – Large Group Discussion
15 Minutes – Questions and Answers
Registration is free
Online Registration:
Continuing Education: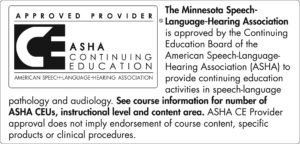 This course is available for 0.1 ASHA CEU
(Introductory level; Related Area)
Presenter Disclosures:
Relevant Financial Disclosure: Alicia Hamilton has no relevant financial relationships to disclose.
Relevant Non-Financial Disclosure: Alicia Hamilton was a Past President and current Vice President of Professional Materials for Minnesota Speech-Language-Hearing Association. She does not receive compensation for these roles.