Student Advocacy Day 2019
Wednesday, March 27, 2019
8:00 am – 1:00 pm
Minnesota State Office Building
Abstract:
During breakfast, students will be introduced to the MNSHA professional lobbyist and members of the executive board. They will receive a briefing on how a bill becomes a law/basic legislative processes, and information on current state issues in Minnesota and how they affect students, professionals and their clients. Students and participants will receive information on effective communication with legislators, practice their "talking points" and will break into groups to meet with their assigned representatives. They will be accompanied by members of the executive board or the lobbyist team. The group will be given MNSHA t-shirts and tote bags with important "drop-off" packets for legislators. After their meetings, groups will reconvene in the meeting space for a Q & A, to write "thank you" post cards or emails, and to complete program evaluation forms.
Disclaimer:
CEUs are being offered to the adult professionals attending the event and accompanying the students.
Learning Outcomes:
At the conclusion of this workshop, participants will be able to:
Explain how a bill becomes a law/demonstrate understanding of the basic legislative process.
List 2-3 current licensing issues facing speech-language pathologists and audiologists in Minnesota.
Describe a strategy for continued contact/follow-up with legislators.
Time Ordered Agenda:
8:00 am – 9:30 am     Breakfast and Welcome
Overview of the Day
Training from Ewald Lobbyist
Purpose of Advocacy
Basic Legislative Process—how a bill becomes a law
How to Talk with the Legislators
Current Issues and Review of Important Talking Points
9:30 am – 12:00 pm    Meet with Legislators and Drop Off Packets
Tour of the Capitol
Participants will locate and speak with the Legislators and/or Staffers, break into groups
Drop off packets to legislators
Discussion of the morning's activities and Q & A
12:00 pm – 1:00 pm  Light Lunch, Debrief and Wrap-Up
Share Impressions of the Event
Successes and Lessons Learned
Results of face-to-face communication with elected officials
Write thank you cards and emails
Next Steps
Presenter:
Valerie Dosland is the Director of Government Affairs at Ewald Consulting, where she provides government relations and lobbying services to clients in the areas of early childhood and K-12 education. Valerie assists her clients in policy development, lobbying and monitoring of legislative activities as well as grassroots development and engagement. Prior to joining Ewald Consulting in 2005, she worked for nine years at the Minnesota House of Representatives as a research consultant specializing in the areas of early childhood and K-12 education. Valerie is a graduate of the University of Minnesota (U of M) with a BA, is an alumni of the U of M's Humphrey Policy Fellows program, and serves on the board of the YMCA Youth in Government Program.
Presenter Disclosures:
Relevant Non-Financial Disclosure: Valerie Dosland is the governmental agent for the Minnesota Speech-Language-Hearing Association in which she is paid for her services.
Relevant Non-Financial Disclosure: Valerie Dosland does not have any non-financial relationships to disclose.
Registration:
Registrations must be received by 3:00 pm Tuesday, March 26, for an accurate lunch count.
Continuing Education: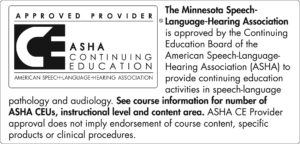 This workshop is for 0.5 ASHA CEUs
(Instructional Level: Intermediate; Related Area)